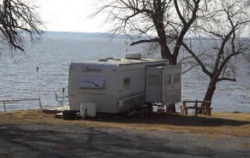 Allen's Point R.V. Park (no mobiles) is open year round. Unlike the Corp of Engineer's facilities, we do not restrict your stay to two weeks. We offer a variety of rates depending on your length of stay. The park sits on 5 treed acres and has 30 sites; 19 Full Hook-ups and 11 Water/Electric Hook-ups. Park electrical is 30 Amps only. We now have Shower Facilities available and are restricted to tent and pop-up campers only.

---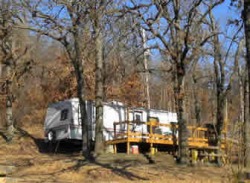 For those who wish to live here on a permanent basis; no room additions are allowed. Porches are available on some of the sites. If you wish to build porches it must be discussed with the Owners. When built they must be portable and if not, they remain with the site when you decide to move. The common areas will be maintain (mowed and trimmed) by the management but Tenants will be required to weed-eat the immediate areas around their RVs along with their personal gardens/flowerbeds/fire-pits. You will find that after the Catfish spawn, staying at this facility is like having your own personal lake since most recreational traffic is found on the south end of the lake.
---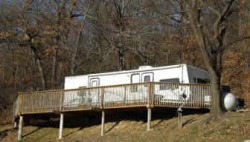 RATES
(NOTE: We do not have 50 Amp Hook-ups)
Monthly - Water/Electric only (3 days or less a week) - $100.00
Monthly - Water/Electric only (Full time live-in) - $125.00
Monthly - Full Hook-up (3 days or less a week) - $125.00 plus utilities
Monthly - Full Hook-up & Full Time Live-In - $150.00 plus utilities
Daily rates - $16.50 utilities included
Weekly rates - $90.00 utilities included
Outside Boat Storage (residents only) 1st boat included - $20.00 for each additional boat.
PARK STATUS as of 03/17/2016: NO VACANCIES



0 full hook-

ups available - next available est Jul 1st, 2016



0 water/electric hook-ups - next available ?
NO DOGS WITHOUT PRIOR APPROVAL.
Due to Insurance Company Policies for the business; there will be no big breed dogs. No exceptions.